Kurukshetra Magazine is a vital source of study material for the UPSC IAS exam. It is a monthly magazine that gives information about important government schemes and programmes in various sectors. Kurukshetra is an authentic source of information for the UPSC Exam. Here, we provide the Gist of Kurukshetra, exclusively for the IAS Exam.
Chapter 1: Equitable Water Resources Management
Introduction: 18% of the total global population is in India with only a 4% share in total water resources. According to NITI Aayog's Composite water resources management, 600 million Indians face extreme water stress. So, water has become a commodity as valuable as gold nowadays. This necessitates equitable water resources management with on-time interventions throughout the year.
Status of water crisis: 
It is estimated that globally, 2.3 billion people live in water-stressed countries and about 2.0 billion people lack access to safe drinking water.
In India, around 2 lakh people die every year due to inadequate access to safe water.
By 2030, India's water demand is expected to be twice the available supply, resulting in severe water scarcity and loss in India's GDP at around 6%.
A study by the Central Ground Water Board on groundwater availability and utilization reveals that annual extraction in 16% of the assessed region is more than the annual recharge quantity.
Reasons behind the imminent water crisis:
Unequal distribution of water across the river basins.

For example: Brahmaputra and Barak basins are the most flood-prone basins with an annual average water availability of 614 billion cubic meters (BCM) which drains its major share into the Bay of Bengal. At the same time, there is severe water deficiency in other river basins like the Cauvery and East Flowing Rivers.

Limited storage capacity and complexities of inter-basin transfers.
Rapid urbanization – Unplanned urbanization can change the dynamic of water supply and demand as a combination of changes in land use and water consumption.
Climate change – leading to erratic monsoons, droughts and floods.
Sectoral Usage of Water:
Understanding the patterns of sectoral usage of water helps in managing and utilizing the available water resources efficiently and judiciously.
Demand for water resources is mainly divided among irrigation, domestic and industrial uses.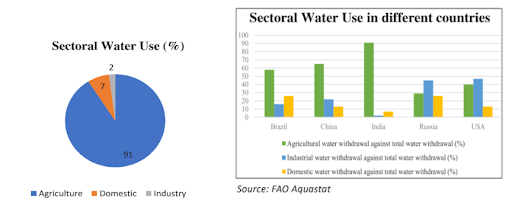 Agriculture:
The partition of India in 1947 included highly developed irrigated canals into Pakistan. This made India give prominence to irrigation in its five-year plans. The annual outlay in the Major and Medium Irrigation sector grew from rupees 376 crores in the 1st five-year plan (1951-56) to Rs 1,65,000 crores in the 11th five-year plan (2007-12).
The number of dams increased from 380 in 1950 to about 3900 in 2000.
Reasons for overconsumption of water in the agriculture sector:
Out of the 68 million hectares that are irrigated, 31 million hectares are under rice and sugarcane, the top two water-consuming crops, and 28 million hectares are under wheat.
Prevalence of flood irrigation method.
Loss during distribution through canals.
Unscientific methods of crop cultivation without considering the agro-climatic conditions.
Misconception among farmers that more water brings more yield.
Erratic irrigation schedule due to irregular power supply.
    2. Drinking Water and Sanitation
India's domestic water sector uses about 7% of the total water used annually.
Based on various studies, less than 70 BCM of water is enough to cater for the domestic needs of all 1.35 billion people of the country. But in reality, there are various regions where safe drinking water is not accessible.
So, it is clear that the water is overused by a few and distributed in a grossly inequitable manner.
    3. Groundwater:
More than 60% of the agricultural water demand is satisfied from groundwater extraction using tubewells.
Irrigated agricultural production has increasingly led to a substantial reduction in groundwater levels, especially in peninsular southern and north-western India.
This increased extraction will lead to saltwater intrusion in coastal aquifers which damages water quality and results in a higher cost of cultivation as the depth of groundwater falls.
Impact of Climate Change on Water Stress:
Higher temperatures and extreme, erratic weather conditions affect the availability and distribution of rainfall, snowmelt, river flows and groundwater, and further deteriorate water quality.
As per India Meteorological Department's study, the long period average (LPA) of the southwest monsoon for the years 1971 to 2020 has decreased by 1 cm and that of annual rainfall by 1.7 cm, as compared to the average for the years 1961 to 2010.

1 cm rainfall shortage across the country means a reduction in the amount of water required to meet the annual domestic water demand of 600 million people.
Socio-economic disparities due to water stress:
Lack of physical and economic accessibility predominantly affects the poor and marginalized and widens the inequalities in sectors like health and education.
Women and girl children of the house are often burdened with the responsibility of fetching water from afar or collecting water from tankers. This leaves them with no time for quality education, independent income generation and other social engagements.
Poor and marginalized people will be affected by lack of access to basic hygiene, migration for water and exposure to water-borne diseases.
Various methods of technology infusion to address water stress:
Saving just 10% of water in agriculture with the aid of suitable technology creates additional water availability of about 60 BCM to 70 BCM for direct use in the domestic sector.
Automation of canal operation.
Using Artificial Intelligence (AI) for real-time assessment of irrigation requirements.

A dynamic irrigation schedule that takes into account actual rainfall, soil moisture, and seasonal change in cropping patterns is nearly impossible with manual calculation and operation but can be easily achieved by an AI system.

Automated leak detection in drinking water pipelines.
Cost-effective wastewater treatment.
Zero-liquid discharge power plants.
Increased capital expenditure on water treatment infrastructure, operation and maintenance expenditure of distribution pipelines.
Government Initiatives:
The Jal Jeevan Mission (JJM) which aims to ensure Functional Household Tap Connections to all rural households by 2024, has at present achieved about 51% coverage.
'Per Drop More Crop' under the Pradhan Mantri Krishi Sinchayee Yojana mainly focuses on improving water use efficiency at the farm level through micro-irrigation and better on-farm water management practices.
Many State governments have also started various interventions to optimize water demand for agriculture.

For Example, a ban on early sowing of paddy by Haryana and Punjab and mandatory use of drip irrigation for sugarcane cultivation by the Maharashtra Government.

The Ministry of Jal Shakti has launched the 'Sahi Fasal' campaign to influence farmers in the water-stressed areas to focus on crops which are less water-intensive and are environmentally friendly.
Way Forward:
Water is best managed at the community level and hence the people-centric model of water management, which reflects the Hon'ble Prime Minister's vision of Collective Efforts, Inclusive Growth (Sabka Saath, Sabka Vikas), should be the future for India's water management.
Chapter 2: Jal Shakti Abhiyan : Catch the Rain
Introduction: Recently, 'Jal Shakti Abhiyan: Catch The Rain-2022' campaign was launched by the Hon'ble President of India. This is a time-bound, mission-mode water conservation campaign. The campaign created a strong environment for bringing together all stakeholders working on water recharge and management.
Jal Shakti Abhiyan 2019:
The Department of Drinking Water and Sanitation, Ministry of Jal Shakti launched Jal Shakti Abhiyan (JSA) in 2019 covering selected blocks out of 256 water-stressed districts.
Selected blocks under the campaign come under the critical or over-exploited groundwater category, where the groundwater was being extracted faster than it could be replenished.
The JSA aimed at making water conservation a Jan Andolan through extensive communication and involvement of communities.
Various union ministries, state governments along with groundwater experts and scientists coordinated by the Ministry of Jal Shakti worked together with a focus on the accelerated implementation of five targeted interventions, namely:

Rainwater harvesting and water conservation
Renovation of traditional and other water bodies,
Reuse of water and recharging of structures,
Watershed development, and intensive afforestation.

Besides, other interventions like region-specific conservation plans, Krishi Vigyan melas and 3D contour mapping of the villages led to the creation of thousands of water conservation and rainwater harvesting structures.
Jal Shakti Abhiyan: Catch the Rain:
The Prime Minister, Shri Narendra Modi launched the 'Jal Shakti Abhiyan: Catch the Rain' campaign on March 22nd, 2021, World Water Day.
This campaign was launched with an aim to encourage the states and stakeholders to create and maintain appropriate rainwater conservation structures, suitable to the soil strata and climatic conditions of the area, with people's participation with the theme 'Catch the rain, where it falls, when it falls'.
The campaign was funded by converging funds for all water conservation-related schemes and also mobilized locally and from corporate sectors.
The campaign was implemented by the National Water Mission (NWM) with 5 focused interventions.

Rainwater harvesting and water conservation
Listing, geo-tagging and making an inventory of all water bodies; preparation of scientific plans for water conservation
Setting up Jal Shakti Kendras in all districts
Intensive afforestation and
Awareness generation.
Catch the rain 2022:
Building upon the success of the previous campaigns, Jal Shakti Abhiyan: Catch the Rain 2022 was launched in all districts (rural as well as urban areas) of the country with the same theme.
Under the 2022 campaign, certain new interventions were added, namely:

Spring Shed Development and Management
Wetland Development and Management
Catchment area protection and development
Amrit Sarovars
In order to commemorate 'Azadi ka Amrit Mahotsav', marking 75 years of Independence, 75 water bodies will be created or rejuvenated in every district under the Jal Shakti Abhiyan: Catch the Rain 2022 campaign. These will be called Amrit Sarovars.
This includes afforestation around water bodies and their catchment area, de-silting, and removal of encroachments for unrestricted water flow.
Chapter 3: Traditional Knowledge in Water Conservation
Introduction: Due to rapid surface runoff of rainwater, very little water is left for groundwater recharge. This has become severe with erratic monsoons owing to climate change. Mismanagement and unsustainable water usage add to the problem of water stress.
India, since ancient times, has designed and developed various types of harvesting systems in different parts of the country with a common aim of saving water with public participation. These systems help to control floods, act as a source of drinking water, an instrument for recharging groundwater, and provide livelihood opportunities to many people.
India's Rich Tradition of Water Harvesting Systems:
Water harvesting is the deliberate collection and storage of water that runs off into natural or manmade catchment areas.
Traditional water harvesting systems were developed mainly in semi-arid regions due to water scarcity.
The practice of harvesting rainwater dates back to Vedic times, but even before that the Indus valley cities had excellent systems of water harvesting and drainage.

Dholavira in Gujarat was laid out on a slope between two storm water channels – it is an example of sophisticated water engineering.

In South India, the great Karikala Chola built the Grand Anicut or kallanai across the river Cauvery to divert water for irrigation in the second century AD. This system is still functional.
In Central India, King Bhoja of Bhopal built one of the largest artificial lakes in the 11th century. The Chandela kings (9th – 13th century) established a network of several hundred tankas that enriched groundwater.
In North India, poet and historian Kalhana in his 12th-century chronicle Rajatarangini describes a well-maintained irrigation system in Kashmir.
 Water harvesting techniques employed in various parts of India:
North-East India:
a) Bamboo Pipes: Bamboo pipes are used to divert water from springs in the hilly regions to the lower regions by gravity. They are extensively used in Meghalaya.
b) Apatani: Practiced by the Apatani tribe of Arunachal Pradesh. It is a wet rice cultivation and fish farming system practised in raised hilly regions and gentle sloping valleys of Northeast India.
Apatani:
c) Zabo: It is a clever technique of catching rainwater from running off the mountains. This system is mainly practised in Nagaland.
d) Cheo-ozihi: practised by the Angami tribe of Nagaland. In this system, a long channel carries the river water. From this channel, many branches take off, and water is often diverted to the terraces through bamboo pipes. The channel is called Cheo-oziihi.
e) Dongs or Ponds: Dongs are ponds in the Brahmaputra valley constructed by the Bodo tribes of Assam to harvest water for irrigation. Water was lifted from the ponds and distributed into the fields by an instrument called lahoni.
f) Garh and Dara: These are also rainwater-harvesting techniques practised in Assam. A Garh is built to divert river water to the agricultural field. In the paddy field, the entire area is divided into small pieces, creating small embankments, called Dara, where rainwater is stored for cultivation.
Indo-Gangetic Plains
a) Ahar-pyne: It is prevalent in Bihar. The ideal terrain for this system should have a clear slope, sandy soil, low groundwater level and flood during monsoon. In combination, these factors make floodwater harvesting a best-suited option.
b) Jampois or Dungs: Dungs or Jampois are small irrigation channels linking rice fields to streams in the Jalpaiguri district of West Bengal.
Rajasthan, Gujarat and the Western Deserts
This geographical region is full of deserts, ravines and valleys. Irrigation by tanks and wells was common in the western part of India.
The natural undulations provide for the creation of wells and lakes.
There are numerous lakes in Udaipur and Jodhpur in Rajasthan. Pichola, Fatehsagar and Udaisagar are Udaipur's main lakes.
a) Tankas/Tank: Tankas are small underground tanks and are popular in Bikaner, Rajasthan. Rainwater is collected in circular holes, lined with finely polished lime, made in the ground. Tankas are often beautifully decorated with tiles to keep the water cool. The water was used only for drinking purposes.
b) Kunds/Kundis: Prevalent in western arid areas of Rajasthan, they have a saucer-shaped catchment area that gently slopes towards the centre where the well is situated. The sides of the well-pit are generally covered with lime and ash. Kunds are built where the salinity is moderate to high and groundwater availability is limited.
c) Kuis or Beris: They are 10-12 meter deep pits near tankas to collect oozing water. A bundle of 6-10 Kuis is called Paar System. Rainwater harvested through such a system is called Patali Paani. The mouth of the pit is usually made very narrow which reduces the evaporation of the stored water. The pit gets wider as it gets deeper, so that water can seep into a large surface area. This water is used as a last resource in crisis situations.
d) Khadins:
In this system, runoff water from the high catchment area is stored with the help of a Khadin bund where it is impounded during the monsoon season. This water is then used for irrigation.
The Khadin soil is high in organic matter and other nutrients as they remain moist for a long period because of water storage and chemical weathering which leads to the decomposition of the microbes.
In the 15th century, Paliwal Brahmins of Jaisalmer were given land by the Kings to develop khadins in exchange for a share in the harvest. This system resembles the irrigation methods of the people of Mesopotamia around 4500 BC.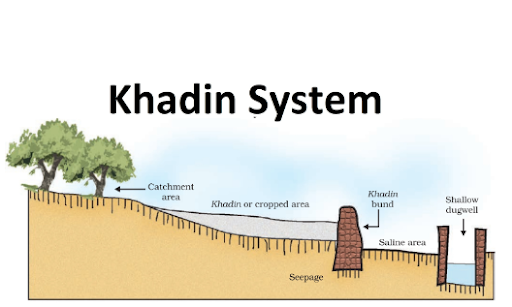 e) Talabs: They are constructed in valleys and natural depressions. They are used as reservoirs. The existing oldest talab was constructed in 1490 AD in Ranisar, Rajasthan.
f) Virda: Virdas are shallow holes, which are made in the sands of dry riverbeds and lakes for collecting drinking water. Maldhari people first established these over Banni grasslands, a part of the Rann of Kutch in Gujarat.
In Virdas, the sweet freshwater remains in the upper layer from which the water is collected, and the saline water remains below the freshwater zone because of its higher density.
g) Johads: They are small check dams that store rainwater with high elevation on 3 sides to prevent runoff and allow percolation into the ground; a storage pit, and excavated soil on the 4th side. It is simple and cost-efficient.
This requires annual maintenance of de-silting and cleaning the storage area of weed growth.
h) Stepwells or Baoli: They are called vav or vavadi in Gujarat, and baolis or bawdis in northern India.
Important stepwells are profusely carved and designed in such a way to serve as a cool resting place in summer. Thus many of them are constructed on old trade routes to give comfort to the people.
Rani ki vav (Queen's well) at Patan is the grandest among all vavs.
Rani Ki vav:
Chauka System, Bawaris, Naada/Bandha, Jhalara are a few other traditional water conservation systems of Western India.
South India:
The temple tanks are known as Kovil Kulam in Tamil Nadu, Kulam in Kerala, Kalyani in Karnataka and Cheruvu or Pushkarini in Andhra Pradesh/Telangana.
Eri and Kulams:
Absence of a perennial river that can cover the whole state of Tamil Nadu inspired people to use monsoon rains for irrigation and filling the ponds for other purposes. Approximately one-third of the irrigated area of Tamil Nadu is watered by the Eris (tanks).
A large number of irrigation tanks were built between the 6th and 10th century A.D. during the Pallava rule.
Local communities maintained these Eris with their own tax system.
 Kulam was a small pond close to a temple. Kulams were constructed by the local masons. A Kulam was built with bricks and granite and was attached to a temple.
Yeri: It is a large earthenware tank dug out of the ground with the dugout mud making the side walls or bunds. A Kuttai was a small pond.
Anicuts: Were small or medium dams built across rivers to divert water into irrigation channels.
The Grand stone Anicut or Kallanai was built on the river Cauvery by Karikala Chola in the second century A.D.
Kudimaramathu: is one of the old traditional practices of local villagers participating in the maintenance and management of irrigation systems. A sense of collective ownership ensured the continued survival of the water bodies.
Deccan and Maharashtra
Kohli Tanks: Kohli Tanks are called so because of the name of a group of cultivators who built these tanks three centuries back. They are necessary for rice and sugarcane production.
Bandharas: These are a traditional system of check dams built across rivers. They raise the water level of the rivers so that the water flows into the channels.
Ramtek model: It is an intricate network of groundwater and surface water bodies. This mode harvests runoff through tanks, supported by high-yielding wells.
Himalayan States:
Zings: These are small tanks, in which melted glacier water is stored. These systems are predominant in Ladakh.
Ghoul: In this system, water is tapped from hill slopes known as Ghuls. It is a standard system in the entire region of Western Himalayas comprising Jammu, Himachal Pradesh and Northern Uttarakhand.
Present-day problems faced by these systems:
Lack of data and action plans to conserve and develop them
Encroachments
Interrupted water flow from the catchment
Siltation, solid waste deposits and polluted water
Way Forward: 
Work towards the revival of these traditional water harvesting systems should focus on sustainability with an emphasis on long-term goals, operation and maintenance, adequate budget, and ownership and responsibility to the people.
Chapter 4: Nature Based Solutions for Urban Water Management
Introduction: According to the renowned urbanist Jane Jacobs, cities will be the future which will drive the economic development of the countries. Today, India is home to more than 4,400 cities and towns out of which 53 cities have a million-plus population. Studies show that India will add about 416 million urban dwellers to cities by 2050. With the rising global challenges of climate change, urbanization, biodiversity loss, as well as the current global health and economic crisis, the investment in nature-based solutions should be well promoted.
Impact of urbanization: 
The rising population and the subsequent concentration of people into the cities is distorting the resilience of natural resources as urbanization leads to the conversion of agricultural lands, deforestation, loss of wetlands, creation of infrastructure beyond the carrying capacity and distortion of watersheds.
This along with a limited resource base has created undue pressure on the natural resources making the cities vulnerable to climate change.

The Global Climate Risk Index 2021 ranks India as the 7th most-affected country from climate-related extreme weather events such as storms, floods, heatwaves, etc. leaving around 4.1 billion people homeless and in a vulnerable condition.
Need for urban water management:
Climate change can have varied implications on urban cities, increasing water in some regions while reducing water availability in other regions with variable patterns of precipitation.

The widespread drought in July 2019 followed by devastating floods in August 2019 in Chennai can be seen as a perfect example of extreme events due to changing climatic trends.

As per a World Bank report, water scarcity, aggravated by climate change, could cost some regions up to 6% of their GDP.
According to a study by NITI Aayog, over 21 major Indian cities including Delhi, Bengaluru, Hyderabad, and Chennai, would run out of groundwater very soon, affecting nearly 100 million people.
According to a report by the National Institute of Urban Affairs, intensive monsoon rainfall will exacerbate the probability of flash flooding in about 78 Indian cities.

Moreover, about 77 coastal urban cities are also prone to frequent cyclones and storms.

As the solutions employed till now to address the above issues were found to be unsustainable, costly, and environmentally insensitive, it is important to adopt nature-based solutions for urban management.

Considering the significance of Ecosystem Restoration, the United Nations has also called for 'UN Decade on Ecosystem Restoration 2021-2030'.
Nature-based solutions:
A nature-based solution uses tools that are provided by nature only. These solutions enhance existing and man-made infrastructure offering long-term economic, social, and environmental benefits.
India boasts a rich knowledge of various region-specific water harvesting structures which plays a vital role in maintaining and restoring ecological balance, acting as a source of drinking water, groundwater recharge, flood control, while ensuring livelihood opportunities to people.

Globally, it is also estimated that the mangrove forests can save about USD 80 billion per year by avoiding losses from coastal flooding and protecting up to 18 million people.

Nature-based solutions also generate economic gains through immediate job creation, increased business productivity and tourism.
Nature-based solutions for water resources:
Nature-based solutions to manage the water sector involves enhancing and delivering natural ecosystem services such as peatlands sequestering carbon, wetlands filtering contaminated water, lakes storing large water supplies, and floodplains absorbing excess water runoff.
In urban areas, the idea is to integrate grey build-up infrastructure to support and complement natural infrastructure like promoting green roofs, open and green buildings, planting trees and terrace gardens, recycling and reusing water and much more.
These local ponds and lakes act as a sponge and thermos-regulator, helping areas to accumulate rainwater, enhance groundwater and regulate micro-climate.
The learning from the case of the New York City watershed has also proved that managing watersheds at different levels can also offer a clean and safe drinking water supply saving millions of dollars of construction and maintenance costs of water filtration plants.

'LiFE Movement', launched by India, is one of the initiatives on nature-based solutions to modern-day concerns.
One of the practices to avoid stormwater being practised in China is 'Sponge Cities'. The concept features absorbing excessive rainfall through soil infiltration while retaining it in underground tunnels and storage tanks, only discharging it into the river once water levels are low enough.
Conclusion:
Learning from the past, nature-based solutions are the future to strengthen the power of resilience of cities, towns, and people against changing climatic trends. With the rising global challenges of climate change, urbanization, and biodiversity loss, investment in nature-based solutions should be well promoted.
Chapter 5: Water Management for Sustainable Rural Livelihood

Introduction: Water is vital for food security, health and hygiene in rural areas. Sustainable water management along with adequate water infrastructure is crucial in managing a healthy and productive workforce, expanding agriculture and allied activities, creating employment opportunities, and improving rural livelihood.
Water Resources of India: 
Surface water accounts for nearly 61.44 percent of total usable water sources in the country.
Groundwater is the most preferred source of freshwater because it is cheaper and easily accessible.
The largest user of ground and surface water in the country is the irrigation sector which accounts for 89% of extraction.
Challenges in Water Management:
Pollution of surface waters by agricultural and industrial effluents.
High inter-temporal and spatial variations in the availability of water resources

Rainfall contributes 64% of total annual recharge – Climate change is resulting in extreme monsoon events, evapotranspiration intensifying the floods and droughts.
Stressed Water Demand
The per capita annual water availability of less than 1,700 cubic meters is considered a water-stressed condition, whereas below 1,000 cubic meters it is considered a water scarcity condition.
Due to rapid population growth and environmental factors, per capita availability of water is falling leading to a water-stressed state.
Government Initiatives:
State governments are primarily responsible for the conservation and management of water resources as water is a state subject. Central Government provides technical and financial assistance to the States through various schemes and programmes.
Pradhan Mantri Krishi Sinchayee Yojana was launched in 2015 with the motto of Har Khet Ko Paani to expand cultivated areas with assured irrigation, reduce wastage of water and improve water use efficiency.
Jal Sinchai Yojana also focuses on creating protective irrigation by harnessing rainwater at the micro level.
To provide clean and safe drinking water to every rural household, Jal Jeevan Mission-Har Ghar Jal (JJM) was announced in 2019.
The Crops Diversification Programme is being implemented in the original green revolution states viz. Punjab, Haryana and Western UP  to shift towards less water requiring crops such as oilseeds, pulses, coarse cereals, nutri cereals, cotton, etc.

Crop diversification in the country has also been promoted through the MSP policy.

Further, the Namami Gange Mission was launched in 2014 for the conservation of Ganga and its tributaries.
Conclusion: Water is a core component for sustainable rural livelihood. It is an essential input to achieve growth with equity along with the health and hygiene of rural masses. Therefore, it is essential for efficient water management with the active participation of local communities and NGOs. Public awareness regarding the rational use of water needs to be promoted through information, communication and education.
Chapter 6: Water User Associations
Introduction: Various kinds of local user associations and institutions like Panchayats have emerged as vital stakeholders in participatory natural resource management in rural areas. A strong and well-structured Water User Association (WUA) could play a crucial role not only in promoting inclusive and sustainable utilization of water resources but also address the concerns of small and marginal farmers.
Water User Associations:
They are groups created with an aim of improving farmers' access to irrigation water resources.
In India, there are associations promoted by the State governments with enabling legislation, Gram Panchayat or NGOs or groups formed by farmers themselves.
Various functions of these associations include maintenance and repairs; acquisition and distribution of water; fixation and collection of water charges; and resolving disputes among water users in the area of operation.
There are about 84,779 WUAs in India.
About 7 states have 80% of the total number of WUAs.

Odisha has the highest number of WUAs.
Challenges:
Lack of legal backup.
Uncertainty of water availability
Lack of financial viability, technical knowledge and leadership
Inadequate training and capacity development
Diverse nature and characteristics of members
Lack of coordination between WUAs and other local institutions and stakeholders
Way Forward:
Active involvement of all members and work in close coordination with all other institutions.
Focus on developing social capital, homogeneity, leadership and operational rules.
Training of WUA members on relevant methods and optimal water usage.
Interventions such as Krishi Vigyan Kendra Melas to sensitize farmers on water conservation measures.
Jal Pe Charcha – Training sessions for volunteers to enable them to spread awareness on water conservation.
Regular monitoring and evaluation of the performance of the WUAs.
Conclusion: Thus WUAs along with participation from local and state governments in India have adopted water conservation practices over the years, which have immensely benefited farmers and resulted in an optimal allocation of water resources.WUAs could be important change agents in the inclusive and sustainable utilization of water resources. Infusing the idea of 'responsible use of water' in the minds of all citizens must be a development priority. Possibly a nationwide 'water literacy programme' is the need of the hour.
Chapter 7: Skilling Rural Workforce for Water Management
Introduction: Ignorance of modern technology and lack of skills among the people to manage water in a sustainable way along with forgetting our traditional knowledge on dealing with water crises for centuries are among the reasons behind water scarcity that is being faced by the country.

Relation of Water Scarcity with Poverty:
Studies across the world have shown that individuals and regions with little access to water resources are quite often seen to be poor, while the poor have mostly been lacking access to good sources of water.
Nearly 80% of all cases of sicknesses and diseases are linked to unsafe water and a lack of basic sanitation.

According to the Intergovernmental Panel on Climate Change, climate change and its negative effects on water resources are projected to impact more than one billion people in Asia alone.

As per the UN report on water scarcity,

Around 700 million people in 43 countries suffer today from water scarcity.
Water scarcity in some arid and semi-arid places will displace between 24 million and 700 million people.
Sub-Saharan Africa has the largest number of water-stressed countries of any region.
Skilling for better water management:
Skilling along with awareness generation and instilling a sense of responsibility and accountability among the people towards water management is the need of the hour to reduce the severity of the issue.
The Philippines have been actively experimenting with skilling programmes under a United Nations programme.
India already has a comprehensive infrastructure for skilling and learning in place covering both formal and informal learning.

Various traditional experts on water conservation in India;
The Sunghas in Rajasthan, chowkidars in Kumaon hills of Uttarakhand, Kollalus in Garhwal, jagliyas or patkaris in Maharashtra, etc.

A combination of traditional and modern technology is beneficial in addressing the issue at hand.
Government Initiatives
Campaigns to address the water problem must be comprehensive and holistic involving all stakeholders from local to national level.
Villages with low groundwater levels should prepare water budgets and should be encouraged to grow crops accordingly.
As a part of the Swachh Bharat Mission, more than 7 lakh Swachhagrahis have been imparted with skills and knowledge around sanitation which is deeply linked with water issues as well.
Thousands of Bhujal Jankaars (people knowledgeable in groundwater issues) are trained under the Atal Bhujal Yojana.
The Silent Heroes
Tarun Bharat Sangh, headed by the 'Water Man' Mr. Rajendra Singh, has been working towards restoring and reviving water conservation structures across many states in the country.
An organization called 'Samerth' is providing safe water in Rann of Kutch using a community-based approach to overcome a severe drought. They are working with the villagers and local communities to skill them in basic water management issues.
Conclusion: 
The issue of water scarcity can also be affected or aggravated by global and regional factors. Local factors are to a large extent in our control, collective efforts by relevant stakeholders will aid in building a skilled and informed society capable of treating its water respectfully and avoiding a dreadful water crisis.
Chapter 8: Water Management in Agriculture
Introduction:
Water is the most critical input for agricultural productivity to achieve the full potential of other inputs like quality seeds, fertilizers, high-end technologies, etc.
Freshwater supply is constant while the demand for water from all sectors of the economy is rapidly increasing.
Managing Water at Source:
Farmers in India generally use 2 to 4 times more water to produce a major food crop than in Brazil or China. Hence, wise and efficient use of water is a must for sustainable development of the agriculture sector and national food security.
In rice production: Technologies are available which can produce a similar output with nearly 50% of the irrigation water.

For example, traditional flood irrigation consumes about 3,000 litres of water to produce one kilogram of paddy grain, whereas, it requires just 842 litres under a drip irrigation system.

25-30% of water can be saved by adopting new technologies such as Direct Seeded Rice (DSR) and System of Rice Intensification (SRI) compared to traditional flood irrigation.
Trench farming in sugarcane cultivation has been found to be very effective in saving water.
With the scheduling of irrigation, 35-40% of water can be saved along with a significant reduction in fertilizer use.
New agronomic practices such as raised bed planting, ridge-furrow method of sowing, sub-surface irrigation and precision farming are also helpful in increasing irrigation efficiency.
Mulching is a simple, effective and comparatively low-cost means that reduces water loss by checking evaporation from the soil surface.

Mulch is any covering material, either organic or inorganic, applied on the soil surface to create a barricade which does not allow the escape of soil moisture.
Policies and schemes to increase the area under irrigation and enhance water use efficiency:
Pradhan Mantri Krishi Sinchayee Yojana (PMKSY): With an objective of protective irrigation for all agricultural farms in the country.
Launched in 2015-16, it has the following 4 major components.

Har Khet Ko Pani
Accelerated Irrigation Benefit Programme
Integrated watershed management programme
Per Drop More Crop

These programmes support water conservation/management activities and have increased productivity, vegetative cover, livelihood opportunities and household incomes causing socio-economic transformation.
2. Over the years, the Mahatma Gandhi National Rural Employment Guarantee Scheme (MGNREGS) has played a crucial role in water conservation efforts across rural India. Nearly 75% of works permissible under the scheme directly improve water security as the major works taken up under natural resource management include the construction of ponds, check dams, renovation of traditional water bodies, field channels, contour trenches, plantations, etc.
Way Forward:
Stakeholders should be educated on irrigation management, and technology to increase water use efficiency and equity.
Participatory Irrigation Management is seen as a vital intervention in terms of equity, efficiency and economy.
Government policies need to be focused on increasing per capita availability of water; rationalization of water rates; reduction in cost and time of irrigation projects; sustainable management of all natural resources including water; and better maintenance of works and infrastructures.
Chapter 9: AGNIi Mission: Leveraging Technology and Innovation for Clean Water
Introduction: Clean water is essential for sustainable development. Poor access to clean water imposes a significant burden on public health resulting in multidimensional poverty and poor economic growth.
Issues with the Clean Water Problem in India:
Lack of an improved source of drinking water within the household – 54% in urban areas and 23% in rural areas.
Lack of adoption of proper drinking water treatment facilities.
Data shows that about 21% of communicable diseases in India are water related which results in an estimated economic cost of USD 600 million annually.
Government initiatives on clean drinking water:
The Ministry of Jal Shakti was formed in 2019 to tackle India's water problems comprehensively and holistically.
Jal Jeevan Mission

In 2021, this Mission has successfully achieved 50% tap water connection in rural households from a mere 17% in 2019.
 AGNIi Mission (Accelerating Growth of New India's Innovations):
It is one of the 9 missions under the Prime Minister's Science, Technology, and Innovation Advisory Council.
AGNIi's approach focuses on the following:

Bridging the Gap between Innovators and Adopters.
Creating a Scalable Impact
Empowering the poor and marginalized, guided by the principle of Antyodaya.
Engaging Indian innovations in the domains of artificial intelligence, quantum computing, robotics, cyber-physical, materials, and energy.

Regarding clean water, this mission is playing a crucial role by way of mapping rural pain points, building India's clean water technology ecosystem, and collaborating with stakeholders such as NGOs, Ministries and others to facilitate high technology interventions.
Case Study:
Aga Khan Foundation and AGNIi collaborated to provide affordable water filtration technologies in the Ganga-Brahmaputra plains of Eastern India which is suffering from groundwater contamination by metals like arsenic, and iron among others.

The Foundation entered into a licensing agreement with Bhabha Atomic Research Center (BARC) with AGNIi Mission's support to deploy BARC's water purification technologies in selected regions
Solutions for improving Water Availability and Quantity: 
Atmospheric Water Generators: They extract water from humid ambient air and convert it through a multi-stage filtration process into drinkable water.

These are installed in public spaces such as the schools in Uttarakhand and railway stations in Telangana on a pilot basis.

Technological solutions with the help of Artificial Intelligence based electromagnetic mapping technology help find the presence of perennial sources with better accuracy and develop the source within 100-120 days.
Many Indian start-ups provide numerous sustainable water filtration and membrane-based cost-effective technologies for treating water.
'Oneer': Developed by CSIR, it is an innovative water technology that removes pathogens such as bacteria, viruses, protozoa, and fungi to provide safe drinking water.
Water monitoring systems with the aid of advanced tools like IoT that enable low-cost, low-power, and real-time monitoring of water quality and quantity.
Conclusion:
Indigenous innovations and technologies should be the focus of AGNIi in future to address water-related challenges and provide for the primary sector's water needs. Effective AGNIi mission can help India achieve its climate-related goals, improve agricultural and industrial output, better public health outcomes, and aid in the timely achievement of SDG 6.
Chapter 10: AGNIi Mission: Keeping Water Resources Clean
Introduction: Clean drinking water is a necessity for the overall improvement of public health. Replenishment of finite water resources every year is required without polluting the sources. It is crucial that we understand a pro-environmental behaviour is vital to saving valuable natural resources.
Impacts of climate change on water resources: 
As per the report by the Ministry of Environment, Forests and Climate Change, in the year 2004,

Warming, rising sea level and glacier melting will negatively impact the water balance and the quality of groundwater along the coastal plains.
Groundwater will be affected by the changes in evapotranspiration and precipitation.
Saline intrusion into coastal and island aquifers due to rise in sea level.
Erratic and increased rainfall can lead to higher runoff and possibly reduced recharge.
Government initiatives to address these issues:
National Water Mission was devised to ensure integrated water resource management, conserve water by reducing wastage and ensure more equitable distribution both across and within states.

The mission aims to optimize wastewater recycling to meet some percentage of urban water needs.

A study done by the Indian Institute of Science in Bangalore in 2016 suggested that if Bangalore were to harvest its rainwater and recycle and reuse its water, it could meet its entire domestic water requirements.

It also guarantees water availability to coastal cities through the adoption of new technologies such as low-temperature desalination technologies that facilitate the use of ocean water.
     2. Sustainable Development Goal (SDG) 6: It focuses on the sustainable management of water resources, wastewater and ecosystems so as to guarantee safe drinking water and sanitation for all.
Further by 2030, it is also targeted to enhance the water quality by eliminating dumping, minimizing the release of hazardous chemicals, reducing the release of untreated wastewater by 50% and encouraging recycling and safe reuse globally.
3. Jal Abhyaranya Programme: To rejuvenate drying mountain natural springs in the Himalayas through technology and community-based approaches for providing water security to local communities by the year 2024 in collaboration with the state agencies.
These springs are the chief freshwater sources for almost 40 million people in 58000 villages across the Himalayas for drinking purposes as well as agriculture reasons.
They are also known as prava, nola or dhara which hold cultural significance in these regions.
The water problems of hilly towns like Shimla are a direct result of the drying of springs.
As per a report by Niti Aayog, nearly 50%  of the perennial springs have already dried up or are turning seasonal by limiting flow only during monsoon, directly affecting the people economically and socially.
     4. Ice Stupas: It is a form of glacier grafting technique that creates artificial glaciers, used for storing winter water. The Ice Stupa melts to increase the water supply for crops during summer.
It was invented by Sonam Wangchuck in Ladakh.
Way Forward:
Integrated water management is a pressing priority so as to provide clean water to the growing population. There is a need to encourage people to value water by creating the proper incentives for judicious use and conservation.
Chapter 11: Rejuvenation of Rivers
Introduction: The objective of river rejuvenation is to understand the reasons behind the overexploitation of rivers and restore the poor health of these polluted rivers. Depending on the degree of deterioration, river rejuvenation aims at a new sustainable healthy river ecosystem to sustain millions of livelihoods.
Functions of a River System:
Source of livelihood – They help in sustaining various sectors of the economy, such as agriculture, fisheries, power generation, transport, navigation and tourism, poultry and livestock farming, several small and medium scale industries, etc.
Rivers also are integral to various large-scale industries, such as pharmaceuticals, leather industries, textile, electronics, tanneries, paper, fertilizer, and oil refineries.
Present status:
Water crisis can affect the socio-economic fabric unless water supply and flows are uninterruptedly distributed across the country.
Irrigation has a direct bearing on the country's food security.

Loss of forests and unsustainable farming practices depleted the access to water for agricultural and household use in rural India.

As per NITI Aayog's Composite Water Management Index (CWMI) report, almost 600 million Indians face high-to-extreme water stress.
India ranks 120 out of 122 countries in a global water quality index.
Currently, 80% of India's population depends upon the rivers for food, livelihood and other socio-economic pursuits.
Reasons for river pollution: 
Poor rainfall, forest degradation and deforestation, flash floods, landslides, bank erosion, faulty horticulture and agriculture practices, soil erosion, excessive groundwater extraction, unregulated floodplain, rapid urbanization, waste dumping, the release of effluents, unregulated sand mining, unregulated tourism and riverbank encroachment.
For example, the river Ganges has the most populous basin in the world and perhaps the most polluted one too.

More than 750 polluting units release 501 MLD (million litres per day) of industrial effluents into the Ganges.
Various Methods of River Rejuvenation:
Regulations to limit the inflow of industrial pollutants into water bodies.
Instead of channelling stormwater into pipes and drains, a more natural method of water management needs to be done.
Filtering out pollutants by adopting green infrastructures—such as rain gardens, constructed wetlands or infiltration trenches.
Conserve natural buffers, such as floodplains with natural vegetation along streams that can filter and slow polluted runoff.
Upgrading infrastructure to separate sewer and stormwater lines.
13 key rivers are selected for a Rs 19,300 crore package to address the issue of dying rivers.

This focuses on protection, afforestation, catchment treatment, ecological restoration, moisture conservation, livelihood improvement, income generation, and ecotourism by developing river fronts, eco-parks, and bringing awareness amongst the masses.
Conclusion:
These efforts on river rejuvenation are crucial in achieving various international commitments of India such as, the creation of additional carbon sink of 2.5 -3 billion tons of CO2 equivalent by 2030 under the Paris Agreement, restoration of 26 million hectare of degraded lands by 2030 as a land degradation neutrality target under UNCCD and it will further push India towards 'Panchamrit' commitment at CoP26, Glasgow.
Chapter 12: Role of Women in Water Conservation
Introduction: There is a need to tackle the injustice of water insecurity to improve the lives of the people of India but there must be a recognition of the plight of women and young girls who are particularly vulnerable due to water insecurity.
Present status:
Over 800 million people live without access to 'improved sources of drinking water' and almost a billion people have to collect their water from distant sources. Invariably, the burden of water collection in water-deprived households falls on the shoulders of women.
The negative impact of climate change has made the situation worse. Due to droughts and heat waves, women and girls now have to travel even greater distances to just meet their basic water requirements.
Socio-economic consequences:
Burden of collecting water from distant places leads to loss of education and a reduction in enrolment rates.
Lack of access to clean drinking water results in malnutrition and increased the risk of water-borne diseases.
Women in Jal Jeevan Mission:
The National Policy for Women in 2016  recommended that it is imperative to design all relevant government programmes on water management keeping in mind that women are the primary stakeholders.
Accordingly, Jal Jeevan Mission was launched in 2019 to provide every household with clean tap water by 2024.
Emphasis has been placed on Saansad Adarsh Gram Yojana Villages and drought-prone areas among other vulnerable regions.
The Jal Jeevan mission mandates that 50% of members of sub-committees (pani samiti/user groups) who monitor the mission be women. This puts day-to-day decisions on water management directly with women of the region.
The mission has placed priority on including women as decision-makers in water management, a role traditionally that has been denied to them.

Many studies have shown that women are more equitable in the division of water resources regardless of scarcity leading to better socio-economic outcomes for the community as a whole.

It also mandates that every village must have 5 women that have been trained to test water samples for any kind of contamination.
Conclusion:
The new approach of making sure that the money, time and effort put in by the government and matched by the local population creates lasting change in the conservation efforts. This has the added benefit of placing women in decision making positions at the village level, redressing many social issues that could have held them back from leadership previously since it is women and young girls who have the task of providing water for the household, it should be women who make the decisions regarding the management of the same.
Chapter 13: From SDGs to Themes – To Enable to Achieve with Local Self-Government
Introduction: Development and governance are closely linked. Achieving the SDGs through the Panchayat Raj Institutions (PRIs) will bring a qualitative change in governance, by conferring more capacity and resources upon these local governments.
PRIs and SDG:
The Union Ministry of Panchayati Raj recently through Localisation of SDGs in rural areas with PRIs, has initiated the way forward of bringing the 17 SDGs as 9 Themes for each village Panchayat to aspire to achieve for its people-
Healthy village: Covers health and well-being for all at all ages.
Poverty-free and Enhanced Livelihoods village: With a focus on multidimensional poverty.
Water-sufficient village: covers all uses, agriculture, domestic, institutional and sustainability, addressing groundwater, rainwater harvesting, and water bodies.
Child-friendly village: With focus on survival, development, protection and participation.
Self-sufficient Infrastructure village 
Clean and green village: Covers sanitation and Climate ecosystems
Socially secured village
Engendered Development in the village: Focus on Gender equality
Village with Good Governance
Challenges:
Poor knowledge and orientation among Self Help Group members to take up suitable and profitable livelihood options.
Limited resources and associated challenges with involving community institutions like SHGs in developing the Gram Panchayat Development Plan.
Patriarchal thinking and traditional obligations discourage women from participating in SHGs limiting their economic avenues.
Conclusion:
Localizing the SDGs at the rural level will challenge existing inequality and provide an institutional framework that is in line with global and national priorities.
The core control to execute and achieve these objectives by involving Village Panchayats stays with state policy.
Presenting effectively an achievable vision to the PRIs drives response and builds ownership. This needs the enabling environment to be provided by the States.
Localisation efforts should lead to transformation not just in social relationships but also in the level of economic activity in villages.