Kurukshetra Magazine is a vital source of study material for the UPSC IAS exam. It is a monthly magazine that gives information about important government schemes and programmes in various sectors. Kurukshetra is an authentic source of information for the UPSC Exam. Here, we provide the Gist of Kurukshetra, exclusively for the IAS Exam.
Chapter 1: India an Incredible Tourism Destination
Introduction:
As one of the oldest civilizations in the world with numerous heritages and attractions, India offers a spectrum of cultural experiences.
Tourism contributes to significant social, cultural and economic benefits. It generates direct and indirect employment for workers ranging from highly skilled to semi-skilled. It is one of the fastest growing service industries producing significant national income.
Importance of Tourism Sector:
As a catalyst to economic growth:

The tourism sector accounts for approximately 8.1% of the total employment opportunities.
In 2019, it contributed 8.8% of total employment, 5.8% of total exports and  6.9% to India's Gross Domestic Product (GDP) and received 5.9% of total investments.
The fact that the Services sector contributes 55 % to the Indian economy makes the tourism industry even more crucial for the country's overall economic growth.
The tourism sector also contributes to foreign exchange reserves in the country.

Cultural-Soft Power

In addition to the economic benefits, tourism has promoted people-to-people cultural interaction with other countries and developed regional cooperation enhancing India's soft power.
It promotes cultural legacy, environmental sustainability and international peace.
Policies towards developing the tourism sector in India:
Swadesh Darshan Scheme: It is a central sector scheme launched in 2014-15, for the integrated development of theme-based tourist circuits.

This scheme is visualized to synergise with other schemes like Swachh Bharat Abhiyan, Skill India, Make in India, etc. with the idea of making the tourism sector a major engine for job creation, the driving force for economic growth, building synergy with various sectors to enable tourism to realize its potential.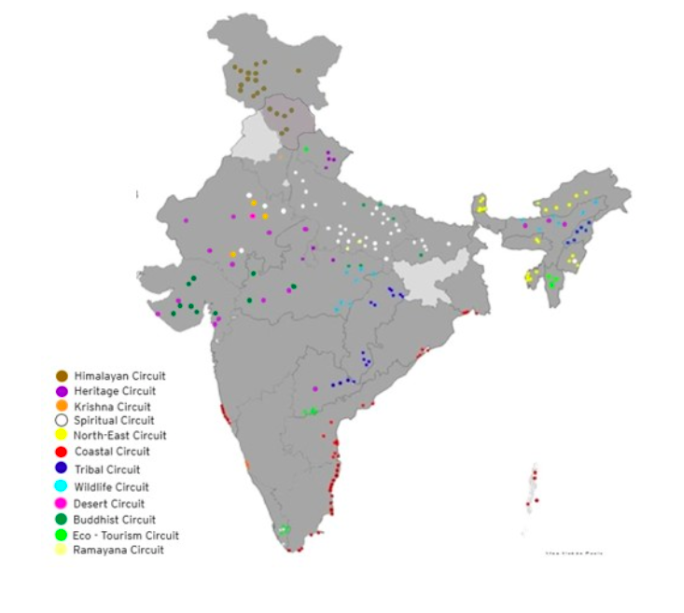 Prasad Scheme: 'Pilgrimage Rejuvenation And Spiritual Augmentation Drive' scheme was launched in 2014-15 with a focus on developing and identifying pilgrimage sites across India for enriching the religious tourism experience. Read more about Prasad Scheme.
"Adopt a Heritage-Apni Dharohar Apni Pehchan" project: Launched with a goal to improve and maintain visitor facilities at heritage sites, monuments, and other tourist attractions.
e-Visas: The government of India has developed a provision for e-Visas for nationals of 170 countries in different subcategories namely, Medical visas, Conference visas, Tourist visas, e-Medical Attendant visas, and Business visas.
Island Development: NITI Aayog is working on the holistic development of a few selected islands in the country.

India is also leading in the development of sustainable fisheries and ecotourism without harming the fragile ecosystems of the Lakshadweep islands.
Read more about the Island Development Program here.
Policies with a special focus on rural tourism:
What constitutes rural tourism?
The form of tourism activity in which the visitor's experience is related to a wide range of products generally linked to nature-based activities, agriculture, and rural lifestyle/culture.
Need for development of rural tourism:
India's rural areas are a highly underexplored treasure with their magnificent lifestyles focusing on art and crafts, culture and natural heritage.
The rural economy accounts for 46% of India's national income, 68% of the total population, 64% of total expenditure, and 33% of savings.
Rural tourism has immense potential to stimulate local economic growth and social change because of its complementarity with other economic activities, its contribution to GDP and job creation.
Focus Areas for Tourism Development in Rural Areas:
Last-mile connectivity
Infrastructure development – transportation, Restrooms and Boarding facilities, sign boards, Network connectivity (Promotes workation)
App Based integration of guides, parking/charging/refuelling, sign boards and information kiosks
Facilities like signage in English and other foreign languages
One India, one tax system for tourist vehicles
Social Media promotion and marketing
The Public-Private-Partnership (PPP) model for developing destinations is a viable option.
Promote wellness and Ayurveda
Promote tribal food and cuisines
Conclusion:
As rural tourism has a significant potential to drive local economic development and social change, various ministries along with the participation of local stakeholders like Panchayat and Gram Sabha should work with inclusive planning to develop and promote rural tourism.
Chapter 2: Development of Rural Tourism
Introduction:
India's rich historical, religious and natural heritage provides a huge potential for the development of tourism and job creation in the country. But there is a need to develop tourist circuits on specific themes which are unique to the region to attract tourists and create livelihood opportunities for local communities and foster social integration.
Tourism sector Potential in India:
The Ministry of Tourism promotes India as a 360-degree destination on different experimental themes like rural, wellness and culinary amongst others. With diverse landscapes and a great variety of biodiversity, India is surrounded by Himalayan mountains in the north and the Indian Ocean in the south. Privileged with extraordinary climatic conditions and cultures evolving over millennia, India is endowed with diverse tourist attractions. Unique geography combined with its connectivity and adequate infrastructure offers a huge number of options for destination and experience.
Rural Tourism: Branding and Promotion
Rural tourism is one of the niche tourism products promoted by the Ministry of Tourism.
A form of tourism that showcases the rural life, art, culture at local locations, thereby benefiting the local community economically and socially as well as the interaction between the tourists and the locals for a more enriching experience can be termed as rural tourism.
This actually focuses on visitors actively participating in the rural lifestyles and imbibing the culture of the area.
Rural tourism is multidimensional and involves agricultural tourism, cultural tourism, nature tourism, adventure and ecotourism.
The Government of India supports the development of tourism by developing infrastructure and providing incentives through its various schemes like the Swadesh Darshan and Prasad scheme.

In 2020, the GoI launched 'Dekho Apna Desh', which encourages Indians to travel across India and various promotional activities like webinars, online pledges, and quizzes are undertaken to generate awareness among the public about tourism destinations, local art, and cuisines in the country.
Under Pradhan Mantri Kaushal Vikas Yojana, a skill development programme of the Government of India, rural youth will be trained in Tourism and Hospitality.
The tourism ministry is developing 2 rural circuits among 16 circuits under the Swadesh Darshan scheme. This shall help in generating employment through active involvement of local communities and following community-based development and a pro-poor tourism approach.

Younger generations are showing more interest in exploring traditional ways of life, arts, and crafts. They will be drawn to visit rural India. The Tourism Ministry has developed 'The National Strategy and Roadmap for Development of Rural Tourism in India' – as one of the initiatives towards Aatma Nirbhar Bharat – which concentrates on developing and promoting local products through tourism thereby creating employment in rural areas and empowering local communities, women and youth.

As per the strategy, clusters of villages having huge potential will be identified in different parts of the country and developed accordingly.
The Themes of rural tourism can include

Folk music
Agri tourism
National parks and wildlife sanctuaries
Yoga and meditation
Local crafts and cuisines
Tribal culture

Tourism promotion is one of the twenty-one components under the Shyam Prasad Mukherji Rurban Mission launched by the Ministry of Rural Development.

Read more on Shyam Prasad Mukherji Rurban Mission.

On 25th January 2022, the National Tourism Day (NTD) was celebrated on the theme of Rural and Community Centric Tourism due to the recent recognition of Pochampally Village from Telangana as the Best Tourism Village by the United Nations World Tourism Organization (UNWTO).
Conclusion: 
Considering that the majority of the population still resides in rural areas, rural tourism is an opportunity to develop sustainable and responsible tourism in rural areas which has the potential to create mutually enriching experiences helping local people and tourists.
Chapter 3: Rural Tourism: Culture and Heritage
Introduction
The culture of today's India is a product of years of cultural metamorphosis and melting of cultures. The growth of rural tourism will satisfy the appetite of tourists to experience the magic of India's rural grandeur.
India, as a conglomerate of cultures:
Analysis of rural tourism through the lens of culture and heritage provides clarity on documenting our histories.
India has an estimated 600 million migrants. Around 16% of all domestic migrants resettled from rural to urban areas.
Cultural confluences occur as a result of migrations, which accommodate, assimilate and acculturate, resulting in the formation of new cultural identities that lead to the emergence of a diaspora.
The evolution of culture is integral to the onward progress of humanity. As a soft power, India has always used culture to call for the betterment of humanity.
Religion has been a very significant social construct that has evolved all along and has been critical in shaping the course of humanity. Pilgrims were the first form of tourism mobility which emerged thousands of years ago.

Temples as pilgrim centres also became breeding grounds for art and culture where various forms of dance and music emerged.
Rural Tourism: Reality Check
Rural India is rich in arts, crafts, religion, rituals and culture and has tremendous potential to become a tourism hotspot.
Rural tourism stimulates the local economy by creating job opportunities and promotes infrastructure development.
It has the potential to revitalize dying local arts and crafts.
Development of rural tourism leads to increased social interaction which in turn creates cultural exchanges, increased awareness and revitalisation of local customs and traditions.
The national tourism policy of India recognises the potential of rural tourism and gives special attention to it.
Rural tourism has been hindered with various roadblocks like,

Lack of investments
Obsolete management practices
Poor infrastructure including connectivity and communication
The preconceived notion of intrusion by 'visitor culture' into the 'host culture' leading to cultural erosion adds fuel to the flame
Fear of rural gentrification caused by development leads to hostility by the local people
Cultural Interpretation of National Tourism Policy:
The first national tourism policy was announced in November 1982 which also coincided with the 6th five-year plan.
This policy was aimed at promoting sustainable tourism as a means of economic growth and social integration, as well as to portray India overseas as a country with a rich heritage.
A National Action Plan for Tourism was launched in 1992 to develop tourism in a manner that preserves the cultural expression and heritage of India.
In the 10th five-year plan, UNDP  launched a pilot initiative to develop rural tourism in India through the Planning Commission which recognised seven key areas:

Swagat (welcome), Suchana (information), Suvidha (facilitation), Suraksha (safety), Sahyog (cooperation), Samrachana (infrastructure development), and Safai (cleanliness).
It called for the expansion of cultural tourism and the active promotion of rural tourism.
The phrase "Incredible India" was adopted under this policy to create an international brand position for India.
An initiative, 'Atithi Devo Bhava' was launched in 2008 taken from Taittiriya Upanishad, to teach the local people about appropriate behaviour and etiquette when dealing with foreign visitors.

As per the draft national tourism policy 2021, 20 departments and ministries are to work in coordination and collaboration.
The Tourism Ministry along with the Department of School Education has taken a positive step by promoting experimental education and vocational internship in the New Education Policy 2020.
This will lead to the development of Edu-Tourism.
The new policy focuses on creating experiences around our heritage sites and monuments with facilities for interpretation, souvenir shops, restaurants and other facilities.
Conclusion: 
The sustained development of rural tourism holds the key to India's occupancy of a prime spot among countries with rich and diverse cultural heritage. All stakeholders and custodians of our culture should actively take part in all endeavours to boost the rural tourism sector.
Chapter 4: North-eastern India – A Tourism Paradise
Introduction: 
The seven northeastern states are considered tourists' paradise. Its enchanting hills, dancing rivers, thick and dark forests, varieties of flora and fauna, countless species of wild animals and plants, thrilling dances and festivals, a variety of many delicious dishes, handlooms and handicrafts, and its green landscape attract people from different parts of the world since time immemorial.  
The majority of the tourist attractions in Northeastern states are primarily located in rural areas thus offering a different experience of rural India. This article talks about a few famous tourist attractions in the Northeastern states of India.
Assam – Sualkuchi, Hajo, Mayong and Jatinga
Religious Shrines:
Sualkuchi and Hajo are twin destinations just 20 km from the capital city.
Hajo is a village of five religious shrines; four Hindu temples, and a Sufi shrine.
On top of Manikut hills, there is a Vishnu shrine called Hayagriva-Madhava temple built in the 10th century.

Koch king Raghudeva Narayana of Kamarupa is credited for the present structure of the temple after the older temple was destroyed by a Muslim invader called Kalapahar in 1564 AD.
The relief works in the architectural ruins of Hayagriva-Madhava temple have a number of dancing female figures which shows that the Devadasi dance form had once prospered in the Hajo temples.
Originally believed to be of Tibet, the Devadasi tradition had travelled to other temples of India from Assam.

Kamaleswar and Kedar temples on top of the Madanachal hill, and the Kameswar temple atop the Gokarna Hill are a few other Hindu temples in Hajo.

Shiva is the deity in all three above temples.

 Hajo also happens to be a centre of attraction for Buddhists.

A section of the Lamas of Bhutan and Tibet believe that Lord Buddha had attained mahaparinirvana at Hajo.

There is a Muslim shrine on the Garudachal hill established by a group of Auliyas (saints) led by Ghiasuddin Auliya in the 16th century. While Ghiasuddin died here and the shrine was developed around his dargah, it is believed that Ghiasuddin had brought with him a poa (1/4th of a seer in weight) of earth from Mecca to set up the shrine, from which the name Poa-Mecca was derived.
Sualkuchi village near Hajo is referred to as the Manchester of the East where fabrics in Muga silk are made.
Jatinga village near Haflong is inhabited by the matrilineal Jaintia tribe.

Jatinga is infamous for the bird suicide mystery. Every year a large number of birds are found dead at this place during the foggy and cloudy weather at the end of the monsoon months.
Meghalaya: Mawlynnong
Mawlynnong is a village located in the East Khasi Hills district of Meghalaya.
It is notable for its cleanliness and also was chosen by Discover India magazine as Asia's cleanest village.
It is inhabited by the Khasi Tribe.
It is referred to as "God's Own Garden".
Christian people form the majority population and the village has three churches.
Khasi people also have a matrilineal society where property and wealth are passed from the mother to the youngest of her daughters, who also keep the mother's surname.
The single-decker Nohwet living root bridges are another attraction of Mawlynnong.
Arunachal Pradesh: Ziro Valley
Ziro Valley is located in a rural setting in the eastern Himalayas on the banks of the Pange river.
Ziro Valley is included in the tentative list of UNESCO's World Heritage Sites for the Apatani Cultural landscape.
It is home to several colourful Himalayan bird species nesting amid tall pine trees.
Apatani villagers rear fish in their paddy fields, a rare farming practice in the world.
There are also two ancient temples nearby – the Meghna Cave Temple and Sidheshwar Nath Shivalinga.
Traditional village councils called Bulyan are unique examples of a living cultural landscape.
The best time to visit Ziro is in January when the Apatanis observe the Murung rituals, or when they celebrate the Dree Festival.
Apatani Culture:
Apatanis have a few unique special characteristic features which differ from other tribes in Arunachal Pradesh and India.

They practice permanent wet paddy cultivation in place of Jhum cultivation.
Apatanis practice the art of facial tattoos.
Mizoram: Thenzawl
The Tropic of Cancer runs through this village, which is an important centre of the traditional Mizo handloom industry.
There is a deer park in Thenzaw, which particularly conserves the highly endangered Sambar Deer.
 Chawngchilhi cave in the village cave is the original location of a Mizo folk story in which a lady falls in love with a snake.
Tripura: Matabari 
Tripura Sundari Temple is one of the 51 holy Shakti peeths in India.
Here, Goddess Kali is worshipped in her Shoroshi – 16-year-old girl – incarnation, while a smaller idol of Maa Kali or Chotto Maa stands beside the presiding deity.
Maharaja Dhana Manikya in 1501 AD built this temple which also has the Kalyan Sagar Lake.
Nagaland: Khonoma
Inhabited by the Angami tribe.
Khonoma village was involved in a series of resistance against the British in 1850 and 1879.
Traditional forts called 'Khuda' meaning "place of defense" built of stones are well preserved here.
They have 'Kharu' meaning traditional gates leading to the localities inhabited by different clans.
It is often described as India's first green village.
The best time to visit the village is the Angami month of Kezie when it celebrates the Sekrenyi festival for ten days.
Chapter 5: Tourism in Jammu and Kashmir
Introduction
Jammu and Kashmir is one of the most popular tourist destinations worldwide.
The region's weather patterns, lakes, wildlife, natural and manmade parks like Shalimar and Nishat from the Mughal era, flora and fauna, alpine forests, wild waterfalls and streams, etc., are some of the most famous tourist destinations in the region.
Further, Jammu and Kashmir is also famous for some prominent Hindu temples, historical buildings, local festivals, unique cuisine, and handicrafts.
Sir Walter Lawrence says in his book 'The Valley of Kashmir', "In latitude, Kashmir corresponds with Peshawar, Baghdad and Damascus in Asia, with Fez in Morocco and South Carolina in America."
There are many other potential tourist locations that are yet to be discovered.
According to reports, the Valley has witnessed about 5.8 lakh visitors through April 2022 and has been hailed as the 'golden period' for tourism in the region, making J&K the sixth-largest tourist destination in India in terms of tourist influx.
Important tourist destinations in Kashmir
Shri Mata Vaishno Devi –  It is located at a height of 1,600 metres in the Trikuta Mountains of the Shivalik Range in the Reasi District of Jammu and is a well-known pilgrimage site that people from all over the country visit.
Raghunath Temple – is also a pilgrimage site. Maharaja Gulab Singh began construction of the temple in 1835 A.D. His son, Maharaja Ranbir Singh, finished it in 1860 A.D.

It is a temple dedicated to Lord Rama and is very unique.

Shandra Sharief – this depicts religious peace in the region as a Hindu ruler built it in honour of a Muslim saint in the 19th century.
Chingus Sarai – the Persian word "chingus" means intestine. It is said that Jehangir died here en route to Delhi in 1627 and Noor Khan had Jehangir's intestine buried in Chingus Sarai to avoid the corpse's decomposition.

The corpse was subsequently embalmed and sent to Lahore for burial.

Bufliaz – Alexander the Great invaded the Poonch region in 326 B.C. to defeat Porus and capture it. Alexander's horse named Bucephalus died and was buried along the river bank at this location; since then, the area has been known as Bufliaz.
Sonamarg 'Golden Meadow' – is an alpine valley located on the banks of Sindh Nallah and has served as the road to the Amarnath cave.
Significance of tourism to the region
Tourism is one of the most important sectors of the economy in Jammu and Kashmir and is a significant contributor to the state's GDP.
It plays a vital role in the economic growth of the region.
The tourism industry has created a significant amount of jobs for the youth in the region.
Further, most of the primary, secondary and tertiary sectors of the economy are dependent on tourism.
Tourism has played an important part in job creation, poverty reduction, and sustainable human development.
State government's initiatives to develop the tourism industry
The recent record-level influx of tourists is attributed to the interventions of the government in terms of infrastructure development such as better road and air connectivity.
The government plans to offer many more offbeat locations for adventure seekers, trekkers and foreign tourists to enjoy nature's wilderness through homestays.

Newer routes and places for trekking have been identified to attract foreign travellers who prefer trekking over sightseeing.

The Government has also unveiled a New Film Policy that aims to increase tourism and investment in the union territory by developing J&K as a destination for film shootings.
The Jammu and Kashmir government offers a subsidy of up to 50% of the total cost to house owners for converting their homes into homestays and further the land ceiling was also relaxed by the government to encourage the locals toward tourism.
Chapter 6: Tourism for AatmaNirbhar Bharat
Overview
Because of its vast geography and rich cultural heritage India has huge potential for rural tourism.
Rural tourism provides a number of benefits for both rural and non-rural economies.
Rural tourism is also regarded as one of the drivers of AatmaNirbhar Bharat.
What is Rural tourism?
As per the United Nations World Tourism Organisation (UNWTO), rural tourism is a type of tourism in which the visitor's experience is related to a wide range of products generally linked to nature-based activities, agriculture, rural lifestyle/culture, and sightseeing.
Rural tourism also includes non-urban (rural) areas which have low population density, landscape and land use that are dominated by agriculture and forestry and a traditional social structure and lifestyle.
Potential of Rural Tourism in India
The different geographical features such as deserts, mountains, plains, plateaus, islands, and four Biodiversity hotspots out of 36 in the world provide a huge potential for rural tourism in India.
The diversity in the cultural patterns in India in the form of distinct lifestyles, practices, art, craft, and festivals can be leveraged to boost rural tourism.
Also, India is rich in heritage with over 40 World Heritage sites that can attract tourists from across the globe.
The improved road and rail connectivity in the country are also major strengths in the field of rural tourism.
Significance of Rural Tourism to India
Rural tourism provides a unique opportunity for Indian villages to showcase its less explored aspects of tourism such as eco-tourism, farm tourism, adventure tourism, etc.
Rural tourism provides ample opportunities for self-reliance to the rural sector which is the key to achieving the vision of AatmaNirbhar Bharat.
It provides a way to promote sustainable and responsible tourism in the country.
It further helps in withdrawing tourists from overcrowded popular tourist places thus providing a chance to rejuvenate them.
Rural tourism also has the ability to revitalize local art and crafts and prevent traditional occupations from being displaced.
Rural tourism can not only preserve the culture and heritage of the country but provides skill development opportunities in tourism-related jobs like guides, drivers, cooks, housekeeping, etc.
Rural tourism will unlock the enormous potential for entrepreneurship in rural areas.
Employment generation within the rural boundaries will encourage people to stay in the villages and prevent their migration to urban areas in the search of jobs.
Government initiatives to boost rural tourism
Product Infrastructure Development for Destinations and Circuits (PIDDC) is a major tourist infrastructure development scheme of the Government.
Swadesh Darshan scheme – under the scheme the Ministry of Tourism has identified Rural Circuit as one of the fifteen thematic circuits for development.
The Ministry of Tourism has recently drafted a Draft National Strategy and Roadmap for Rural Tourism, which aims to develop and promote local products through tourism.
The Ministry of Rural Development through their Shyama Prasad Mukherji Rurban Mission (SPMRM), has proposed Tourism Promotion as one of their 21 components desirable for cluster development,
Likewise, under the Pradhan Mantri Kaushal Vikas Yojana, the government is providing to the youths of the country in the Tourism and Hospitality sectors.
Challenges Faced by Rural Tourism
Problem of literacy – low literacy rate in some rural areas is a major challenge for advancing rural tourism.
Lack of awareness – the lack of awareness among the inhabitants about the benefits of showcasing their culture and heritage.
Connectivity – despite better connectivity facilities in recent years, rural areas still lack transportation, infrastructure, lodging, food and amusement facilities.
Marketing – is also a challenge as tourists have no information about these rural tourism projects.
Other challenges – lack of trained human resources, inadequate funding, lack of involvement of the local community, and maintenance of the project over time.
Recommendations
Government must conduct a feasibility study before undertaking any rural tourism project.
The government should focus on developing a handful of projects which are famous for a craft instead of creating many rural tourist destinations.
Connectivity problems must be addressed as a priority.
Government can help in marketing rural tourism through its media platforms.
The focus must be on diligent implementation and maintenance of hardware and software components of the project.
Holistic development of the destination is required rather than improving the infrastructure and enhancing training facilities only.
Rural Tourism is a multidisciplinary sector and involves a large number of stakeholders. Hence the ministries like rural development, culture, environment, and tribal welfare must come together and also collaborate with the local Panchayats and stakeholders.
Chapter 7: Tourism Infrastructure Development
Evolution of Tourism
INTERNATIONAL TOURIST ARRIVALS (ITA) is a key global indicator for tourism and the United Nations World Tourism Organization (UNWTO) estimates that there were just 25 million tourist arrivals in 1950 internationally.
ITA stood at a whopping 1.4 billion in 2019 and it marked the 10th consecutive year of sustained growth in ITA.
Tourism has witnessed continuous growth except for occasional shocks which were seen during the 9/11 terrorist attacks, the SARS epidemic in 2003, the global economic crisis in 2008 and the COVID-19 pandemic in 2020

COVID-19-induced lockdowns caused severe impacts on tourism as the industry sustains on mobility.
Stages of Tourism
Jafar Jafari, who is a leading academic in Tourism Studies, identifies certain stages upon which the study of tourism has been based:
The Advocacy Stage: International mass tourism started to increase quickly from the early 1960s and tourism was seen mainly as an economic phenomenon, an expanding international business that was an important source of income and employment
The Cautionary Stage: As tourism grew in both scale as well as scope, there was an increase in the awareness of its negative consequences.

As a result, academic attention was increasingly focused on the cultural and environmental impacts of travel and tourism.

The Adaptancy Stage: During the 1980s, as attention continued to focus on the negative impacts of mass tourism, a principal theme of Alternative Tourism emerged that paved the way for Sustainable Tourism.

Alternative tourism is an umbrella concept consisting eco-tourism, agro-tourism, community tourism, ethical tourism, responsible tourism and sustainable tourism
Tourism in India
In 2019, the Prime Minister of India urged people to travel to a minimum of 15 tourist destinations within India by 2022.
He said that this will help boost tourism and thereby help to create better facilities in the destinations.
The Ministry of Tourism, in November 2019, launched the Dekho Apna Desh programme
In response to the pandemic, 'AatmaNirbhar Bharat Abhiyan was launched and this in the context of tourism means enhancing domestic tourism within India.
The 'Best Tourism Villages' by UNWTO is an initiative that aims to recognise those villages which are outstanding examples of rural destinations and tourism.

In 2021, the Ministry of Tourism recommended three villages for the UNWTO Best Tourism Village from India which were Kongthong in Meghalaya, Ladhpura Khas in Madhya Pradesh, and Pochampally in Telangana.

Rural Tourism for the first time was identified as one of the focus areas in India's National Tourism Policy 2002.
In 2022, the Ministry of Tourism came up with the Draft National Tourism Policy which focuses on five key areas namely Green Tourism, Digital Tourism, Destination Management, Skilling the Hospitality Sector and Supporting Tourism-related MSMEs.
Tourism Infrastructure Development- 3 'A' Approach
Attraction – refers to those features that attract tourists to a destination which is classified into 3 categories namely:

Resources by virtue of geographical and climatic characteristics
Rural culture like folklore, handicrafts, local goods and products, etc.
Farm produce and practices

Accessibility – refers to the connectivity of the destination in terms of transportation. This includes

Road Transport Infrastructure initiatives like Bharatmala project
Water Transport Infrastructure initiatives like Sagarmala Project
Air Transport Infrastructure Initiatives like Ude Desh ka Aam Naagrik (UDAN)
Multi-modal Connectivity Initiatives like Gati Shakti – National Master Plan

Accommodation – This includes boarding and lodging facilities for tourists at destination.

Accommodation infrastructure has to be built in the rural area itself as per the core theme of rural tourism.
Conclusion
The rural landscape in India offers the myriad potential of being transformed into a tourism product that can attract both domestic as well as international visitors.
To develop a village as a tourist destination, policymakers must first identify the key strengths of the destination and key factors such as location, proximity to prominent tourist implementation and maintenance aspects which drive growth of tourism.
Further, convergence of various ministries and schemes must be considered for developing a holistic approach towards tourism in India and rural tourism in particular.
Chapter 8: Reviving Tourism post COVID-19 Pandemic
Impact of COVID-19 Pandemic on the Tourism Industry
The COVID-19 pandemic disrupted all aspects of tourism which is a human-centric industry.
According to UNWTO, the decline in international arrivals was nearly 70%.
According to the Ministry of Tourism, foreign tourist arrivals in India in March 2020 were about 66% lower compared to that of March 2019.

This drop in tourism is attributed to the lockdowns and restrictions on domestic and international travel across the world.

The impact of the pandemic on tourism produced cascading effects on governments, businesses, and local communities resulting in losses worth USD 1.3 trillion in export revenues globally.
In India, it has been estimated there were about 40 million direct and indirect job losses in the travel and tourism industry, with losses to the sector estimated to be USD 16.7 billion.
Efforts undertaken by the government to revive the tourism sector
In the Union Budget 2022-23, the Finance Minister allocated Rs 2,400 crores to the Ministry of Tourism, which is 18.42% more than the allocation made in the previous budget.

Rs. 1,181crores was allocated for "Swadesh Darshan" to develop tourist circuits in the Northeast region
Rs. 1644 crores for Tourism infrastructure development
Rs 235 crores for Pilgrimage Rejuvenation and Spiritual and Heritage Augmentation Drive (PRASHAD) to stimulate growth in tourism segments like religious, wellness, heritage, adventure, etc.

An Emergency Credit Line Guarantee Scheme (ECLGS) was extended up to March 2023 for COVID-19 affected sectors which also included the tourism sector.
The Tourism Minister also announced that visas would be given for free to the first five lakh tourists and also extended e-visa facilities for travellers from 156 countries.
The Ministry of Tourism launched the "Dekho Apno Desh" campaign under which awareness activities were undertaken to educate citizens about tourism destinations, local art, and cuisines in the country.
The Ministry of Tourism and the Quality Council of India designed a programme called System for Assessment, Awareness and Training for Hospitality Industry (SAATHI) in 2020 to implement policies and standard operating procedures (SOPs) for the operation of restaurants, hotels and other such establishments.
The Ministry also established the National Tourism Task Force to revive the tourism and hospitality sector and released a National Tourism Policy to support tourism and its sub-sectors.
To explore the tourism potential of scenic Western Ghats, the Ministry of Railways has also allocated vistadome coaches in several trains.
The IRCTC started special trains such as "Sri Ramayana Yatra", "Buddhist circle", and "Royal Rajasthan tours"
Further, the government has undertaken various initiatives to support rural tourism in the country such as the Product/Infrastructure Development for Destinations and Circuits (PIDDC) scheme and Rural Tourism Development Component 
An MoU has also been signed between the Ministry of tourism, United Nations Environment Programme (UNEP) and Responsible Tourism Society of India (RTSOI) to undertake efforts to promote and support "sustainability initiatives" of tourism.
Conclusion
While the pandemic has negatively impacted tourism, it has opened new opportunities for niche tourism related to Ayush and wellness.

The pandemic has increased awareness about holistic well-being and has further increased the global attention on the AYUSH system of Indian medicine.

As various countries across the world are looking to relax restrictions, it is important for India to realise its potential in the fields of environment, spiritual, education and medical tourism.